Unwrapping Halloween's Candy Economy
Presented by Sterling Total Wealth Solutions


October 6, 2023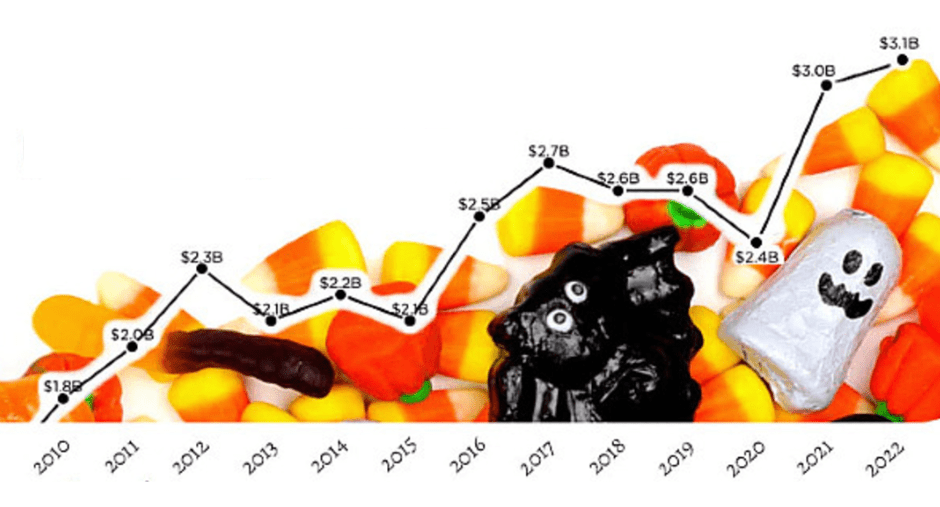 We hope this article finds you in high "spirits" as we approach the spookiest time of the year.
As the days creep closer to Halloween, confectioners weave a sweet web in preparation for this enchanting holiday. Did you know that the National Retail Foundation projects Americans will spend a staggering $12.2 billion this Halloween? That's about $100 per household and amounts to a 15.5% increase in spending compared to last year's Halloween. And, out of the $12.2 billion, an impressive $3.6 billion will be spent on candy alone!1
What's changed? Celebrations like Halloween are exceeding even pre-pandemic levels. After being cooped up, we're all looking for a good excuse to spend more time with family and friends, even if that means spending more to have a festive celebration.
According to CandyStore.com, these are America's top favorite Halloween candies:
Reese's Cups
M&M's
Hot Tamales
Skittles
Sour Patch Kids
Starburst
Hershey Kisses
Candy corn
Hershey Mini Bars
Snickers2*
* Results from 15 years of sales data (2007-2022) from CandyStore.com
Did your favorite candies make the list? Will you be handing out candy to trick-or-treaters this year? And, for all the little ones asking, will you be handing out full-sized candy bars? Inquiring minds want to know!
We are wishing you and yours a most "ghoulishly" fun Halloween!
Securities offered through Registered Representatives of Cambridge Investment Research, Inc., a Broker/Dealer, Member FINRA/SIPC. Advisory services offered through Cambridge Investment Research Advisors, Inc., a Registered Investment Advisor. Sterling Total Wealth Solutions and Cambridge are not affiliated.
To learn more about Sterling Total Wealth Solutions, visit us on the web at www.sterlingtotalwealthsolutions.com
The content is developed from sources believed to be providing accurate information. The information in this material is not intended as tax or legal advice. It may not be used for the purpose of avoiding any federal tax penalties. Please consult legal or tax professionals for specific information regarding your individual situation. This material was developed and produced by FMG Suite to provide information on a topic that may be of interest. FMG, LLC, is not affiliated with the named broker-dealer, state- or SEC-registered investment advisory firm. The opinions expressed and material provided are for general information, and should not be considered a solicitation for the purchase or sale of any security. Copyright 2023 FMG Suite.
CITATIONS
1. NRF.com, 2023
2. CandyStore.com, September 30, 2023